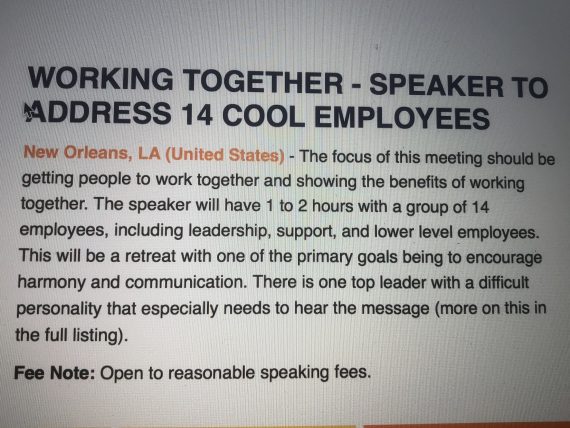 60-minute coaching keynote outline:
Assumptions:
Your end goal: Each participant wants to enhance their coaching conversations to become a better coach.
Your Theme: CEO of You, Inc.
Designing your content, timing, and activities as if i am speaking to my fellow Disney Cast Members in Innovation, Technology, Transformation, Strategy
Focus is Coaching, not Leadership.
60 minutes to speak, probably an official introduction
Minimal use of slides
Presentation has six 10-minute+- content blocks
Opening, 4 content points, closing
0:00 – 10:00  Welcome/context
Set the stage/expectations/thesis – DI similar to you (3 hells) (selfie) (3 min)
Activity – Pair up. How has your life been impacted by effective coaching? Debrief (make case for coaching's undeniable value) (5 min)
Disney story – The case for change (we sucked weren't so great) and how coaching drove change  (2 min)
10:00 – 20:00  Values
Activity – role model story (in pairs), short debrief (values drive impact) (5 min)
Disney story – "Jeff, not everyone likes you…" (2 min)
Make dramatic leaps for the people you serve (brief overview of Disney values) (3 min)
20:00 – 30:00  Purpose
Activity – Can you sing video (5 min)
Activity – What do you do? (1 min)
Disney story (onstage) – Task vs Purpose, Disney janitor (2 min)
Disney story (backstage)- Guy & what are they giving you? (2 min)
30:00 – 40:00  Legacy
Activity – Disney Institute "milestone video" (4 min)
Activity – (pair up) Company, Division, You – What legacy do you want to leave? (5 min)
What will others say after you are gone? – self-reflection (1 min)
40:00 – 50:00  Action
Activity – paper sculpture, debrief (6 min)
Your four tenets (1 min)
Disney story – David, Freestyle, a great teacher but energy vampire (2 mins)
Segue with "CEO of You, Inc" (1 min)
50:00 – 60:00  72-Hour Challenge
Context – the power of action –  share my simple life-changing example (1 min)
Activity – self-reflection, pair & share, exchange contact info (accountability) (6 min)
Group share – 1 or 2 volunteers (time permitting) (2 min)
Closing words (1 min)
•  •  •  •  •
This website is about our home health. To leave this site to read today's post on my mental attitude website, click here.
If you want to stay on this site and read more posts from this Blog, click here.