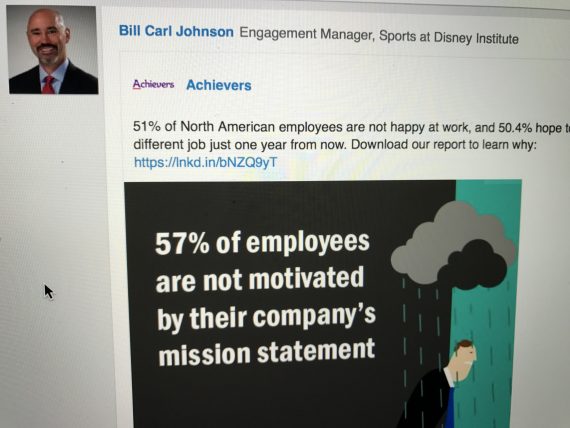 Just minutes ago, i wrote this email response to an executive (edited slightly to maintain anonymity)…
"Thanks for quick reply and added personal context. Consider this example: Having a private heart to heart conversation with a direct report (developing them) about one of their blind spots (that no one has the courage to tell them, except you, finally) – that's inspiring.
Let's make sure we don't define inspiration as a cheerleader rah-rah activity. Conviction is inspiring. Calculated risk taking is inspiring. Forgiveness is inspiring. Taking care of our health is inspiring. Putting Family at the top is inspiring. Volunteering is inspiring. Hiring the right people is inspiring. Admitting mistakes is inspiring. Having fun at work is inspiring. The rhythm of repetition can be inspiring.
When that slide appears and i talk about it briefly, there will be some in the audience making less-than-wonderful judgments. Your opportunity during these two days is to be the thermostat, not the thermometer. 😃
Can't wait to see you "turn it up".
•  •  •  •  •
This website is about our HQ. To reflect on posts about our MIND, click here.